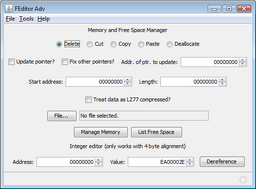 FEditor Adv is a Java-based application for modifying all three GBA Fire Emblem games. It was created by Hextator; he later received help from Zahlman.
Portrait Editor
Text Editor
Class Animation Creator
Class Animation Manager
Spell Animation Inserter
ROM Map creation
Release Notes
Edit
Goals for Upcoming Release
Edit
Move FE 6 auto patches that are overwriting level up number graphics so that they are out of the way, preferably next to the AH patch
Make auto patches able to be selectively disabled by having the source for the int[][][]s returned by getPatches able to be loaded dynamically from text files with support for comments
Redo auto patches to be assemblable all at once
Add CG editor for at least FE 7
Add auto patch for the graphical fix for units that use both magic and melee weapons
Fix OAM rendering
Fix palette editing support for class animations
Add palette editing support for character animations
Add support for generating battle backgrounds, at least for FE 7, by extending the CG_Image model
Add battle background editor for at least FE 7
Add feature for describing a memory map of the ROM based on what FEditor is "aware of" and have the result able to be saved to a text file
Port CG/battle background editors to FE 8 and FE 6 where applicable
Integrate more external features into the main GUI
Remedy more of FEditor's code marked with "XXX", "FIXME", "TODO" and similar comments
Add custom chapter support (including map, event and starting location editing)
FEditor can be downloaded via FEUniverse directly from Hextator[1].
Click on "Latest Version" to download.